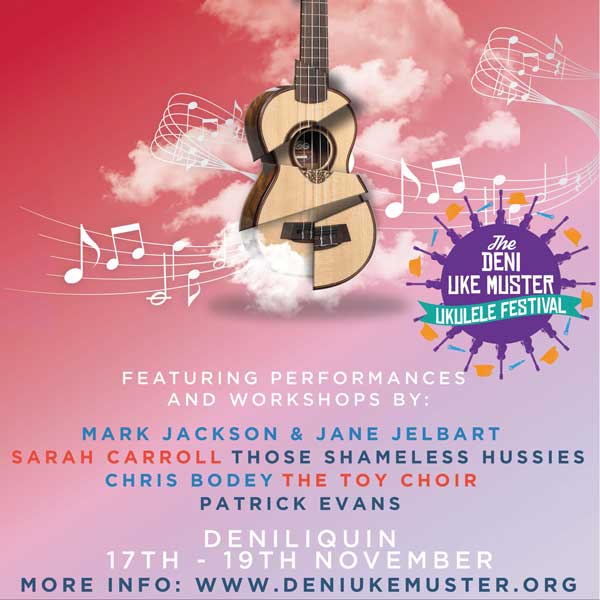 Yes, it's been a while. I didn't realise how long it's been since I last posted a blog but life's like that I suppose.. It keeps getting in the way of the things you tell yourself are important and we end up dealing with the things that actually are important. Nonetheless it's time to update things.
Item 1 - I'm heading off to Deniliquin tomorrow morning with my good friend Gordon Tresider on another Folk Bloke adventure, and this time it involves ukuleles. Yes, although I've attended many ukulele festivals as an instrument maker and supporter this time I'll be playing a set of my songs on the prototype Maton Concert uke accompanied by Gordon on a very recently acquired bass ukulele at the Deni Uke Muster tomorrow night. What could possibly go wrong? It's been an interesting exercise bringing the songs over to uke. First there's the transposition exercise and the lack of bass strings. Not too taxing for someone used to transposing on the fly but it gets interesting once the chords become a bit complex. I've realised I almost never play a straight triad anymore. There are always added 2nds, 4ths and 7ths and I didn't even know I was doing it. I guess that happens as you learn more James Taylor songs.... But, even more challenging, many of the songs are inn DADGAD so in my head I'm going from DADGAD to conventional tuning then up a 4th to ukuele tuning. Like I said, what could possibly go wrong? Nonethe less I'm really looking forward to tomorrow night. It's going to be great fun and who knows, it might even turn out great!
Back on more familiar ground I'll be presenting a workshop on Sunday covering the background to the design and production of the Maton Ukulele range as well as an in depth look at the manufacturing methods we use to make these wonderful little instruments. 
Item 2 - There are a few gigs coming up including a fundraiser with the Kathryn Clements and Andrew Cooper for the Asylum Seeker Resource Centre on Saturday, November 25 at the Footscray Arts Centre, 2-3pm. I will also be doing a spot at the Darebin Songwriter's Guild (Bar 303 High St Northcote) starting at 3pm, Sunday December 3. I'm really chuffed to have been asked by Claymore to join then at their New Years Eve show at Ariette's Concert Lounge (Croydon). It's always brilliant to share the satge with the lads and I know this will be a ripper. They'll do the best Auld Lang Syne ever!
What else is happening? Oh yes, I'm heading down to the Cygnet Folk Festival in January with Ewen Baker and his fine band of minstrels to play at my first Cygnet festival. This is going to be a musical highlight for me and Ewen's given me about 38 tunes to learn on the fiddle at breakneck speed. Once again, what could possibly go wrong?
Lastly, I've been in the studio working on my first solo album under the care of the brilliant Craig Pilkington at Audrey Studios. It's coming along nicely but there is plenty of work still to do. More on this as it goes along....
I think that'll do. It's been a great year for collaborations. I've made lots of new musical friends including Tom Bolton, Leigh Sloggett, Cyril Moran, Kathryn Clements, Andrew Cooper, Ronnie Talbot, Billy Dettmer and Keith Rae as well continuing to make music with Suzette Herft, Gordon Tresider and many others. I wonder what next year will bring? More of the same I hope! In the meantime....My Dog Has Fleas........