Suzette Herft and Patrick Evans are a unique blend of modern Australian Folk.  Suzette,with her touch of exotic spice from Sri Lanka, the 'Pearl of the Indian Ocean', joins withPatrick, the quintessential Australian songwriter from the Victorian Country coastline. Suzette grew singing to her father's classic country collection, and was influenced heavily by the American Songwriter Troubadours, playing at various folk venues and festivals around Australia. Patrick is well known for his songwriting and work in various Celtic bands includingFiddlestix, Pure Genius and The Wrenboys, as well as being a sought after guitarist and fiddle player for well known Australian artists. This duo is more than the sum of two individually talented artists, who have found that together, they can meld their different influences and love of the same music with their passion for songwriting, creating their own luscious blend of harmony and modern Australian Folk.
Suzette Herft and Patrick Evans are contemporary troubadours and award winning songwriters.  Suzette's sublime voice echoes the purity of voice of Joan Baez, the heartache in the voice of Emmylou Harris and the soul in the singing of Patty Griffin. Patrick's music reveals the same musical influences that spawned masters like Shane Howard and Mick Thomas and he is rapidly gaining a reputation as a masterful songwriter, with his songs receiving world wide airplay via the internet radio. His turn of phrase and melody is reminiscent of The Dingoes and other uniquely styled Australian bands who combine the laconic poet with melodies that creep into your unconscious.
 
Individually,they've always been playing music…but sometimes life has a habit of getting in the way… Finally, they found the magic when they found each other, and all the combined years of song and experience have created their unique blend of modern Australian Folk.

"The organising Committee of the Tamar Valley Folk Fesival highly recommend Suzette Herft and Patrick Evans as a welcome addition to any festival programme. Our audience really appreciated the Bob Dylan/ Joan Baez tribute concert, their stage performances and their participation at our local sessions in the Pub were really fantastic. These two performers are such a warm and talented duo and enrich the fabric of a  festival.
If your looking for talent with soul, then look no further."
Chris Atwell and the Team (Tamar Valley Folk Festival Tasmania)
"What a great concert set from Suzette Herft & Patrick Evans. I really enjoyed your original song set - so refreshing to hear new songs of such quality and the Bob Dylan /Joan Baez show was such a hit.  This duo comes highly recommended. Audiences will be delighted with their performances."
Roger Joseph
___________________ 
Arelmedia Management/Arelmusic 
Don't forget to check out Patrick's site: https://www.patrickevansmusic.com  
and our Facebook site for more details https://www.facebook.com/SuzetteandPatrick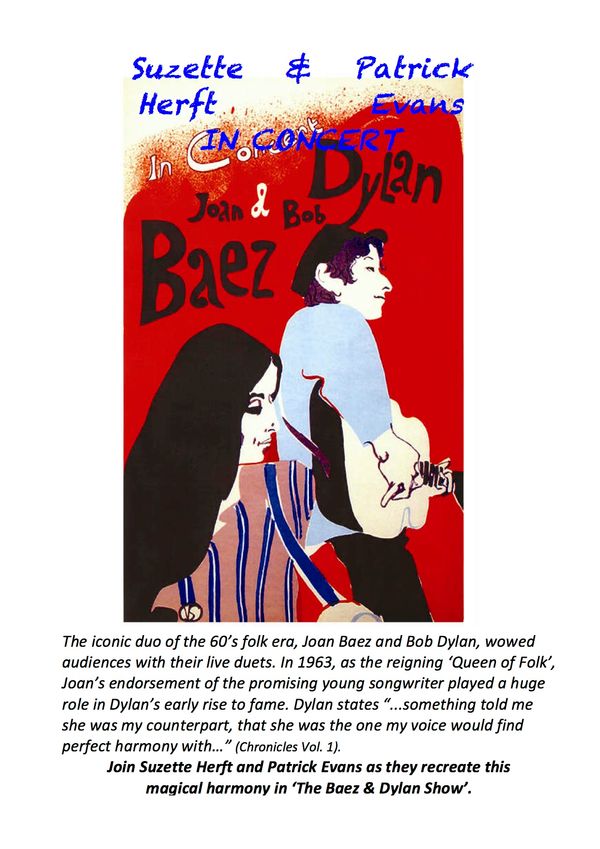 Joan Baez & Bob Dylan Tribute Show