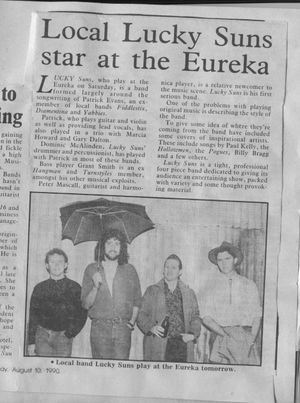 I guess I was pretty lucky as a boy. At the age of nine my family relocated from inner city North Carlton to Torquay (on Victoria's surf coast) for one year and then to Clifton Springs on the Bellarine Peninsula in Victoria. Our house was built on a block that ran right down to the water's edge; the water was Port Phillip Bay. We had the biggest, wettest back yard in the world! As kids we mucked around in boats, fished, swam, snorkeled and generally had the time of our lives, and if we got bored with the bay Ocean Grove with its surf beach and Barwon Heads with its river outlet was only a twenty minute drive away. 
When I grew up I moved into Geelong (still close to the sea) and concentrated on music and instrument building so the sea became less a part of my everyday life but I still hankered for the lap of the waves on the sand and the sound of seagulls circling overhead. 
After the demise of Fiddlestix (1989) I played in a bush dance band for a while (Diamentina Dance Band) and then formed a band called Lucky Suns with my old mate Dominic McAlinden, Peter Maskell and Grant Smith. We were later joined by keyboard wiz Danny Kriven and played around the Geelong area for about two years. We made two recordings, one self titled EP (cassette only) and an album (cassette only as well) called "Ten Songs". There are some strong songs on these recordings and even if the sound quality is a bit ordinary the energy and sheer amount of work we put in shines through. We are going to try and resurrect the "Ten Songs" album with a bit of studio fairy dust but the self titled EP still sounds pretty good. So, to tie all this together, I have uploaded my song "Down To The Sea" from the Lucky Suns self titled EP. This is the story of a middle aged bloke (sadly now true so it was a bit of a prophecy) yearning for the seaside days of his youth. The "fish and chips for lunch" in the chorus refers to the legendary fish and chips you can still buy in the main street of Queenscliff. The beginning is a bit "arty" as I took my German Shepard "Woodie" down to the beach at my Mum's place with a hand held cassette recorder and grabbed various sound bites to set the "sonic landscape" (I was doing Performing Arts at Deakin Uni at the time). Dominic calls out to the kids to "get in the car". This is due to the fact he was the only parent in the band at that time and we thought he could summon up the appropriate parental authority...  I still play this one quite often and it usually raises a chuckle in the audience. Enjoy.....