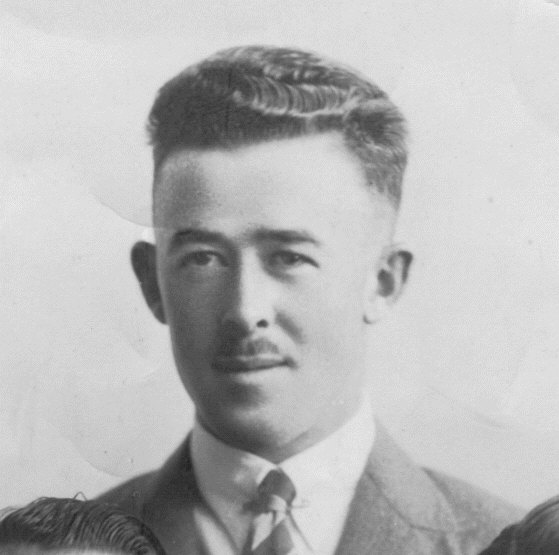 I'd like to introduce you to William Frederic Barrow, Sergeant in the 7th Battalion RAA.
William (or Uncle Bill) as he was referred to by my family was a mining engineer from Ballarat, Victoria. He was my grandmother's (Lillian Barrow) younger brother. He was apparently very funny and a lovely man. He served in the Australian Army in the Pacific through the Second World War and died sometime in the 50's if my memory serves correct. I'm sure the family historian (Richard) will put me straight on this. To my knowledge he never married.
Anyway, while Bill was in the Pacific he wrote numerous poems, songs and even a play or two. I don't believe he ever had anything published and I'm not even sure he would have wanted to. I imagine he was pretty content with his work in the mining game. He wrote one or two short poems to that effect. 
He had the truly dubious family trait of dreadful punning along with a delight in rhymes that make you groan. It's a genetic flaw that seems to be as strong as ever. My daughter Sofia certainly suffers from it and so, it would seem does my niece Rose. We wont even mention my nephew Louis who seems to delight in such "humour".....
Some years ago I came into the possession of an old folder of Bill's assorted scribblings, many in faded pencil and some neatly typed on the regimental typewriter. 
My recent revival as a songwriter (I stopped for a good seven years or so after the Wrenboys) led me back to Bill's folder for another look and I stumbled on a poem called "To Arms". It was written in Balikpapan, Borneo in August 1945, about a month after the Allies captured it from the Japanese. On August 6, 1945 American Forces dropped the atomic bomb on Hiroshima. They dropped a second on Nagasaki on August 9. 
This poem can only have been written days after these events. I find it astonishing and uplifting that and Aussie soldier at the end of many years of war with the Japanese could have written this poem. I wish he had lived longer. I would have loved to have known him.
Please enjoy "To Arms" by William F Barrow.